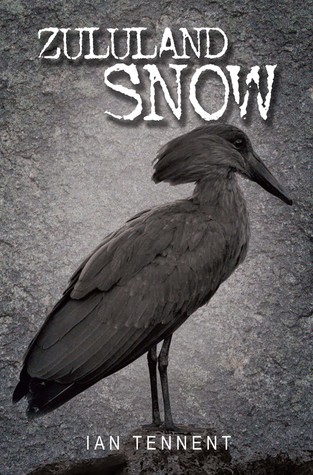 While Zululand reels under the blows of a lunatic's hammer, half-hearted schoolboy Craig's imagination ignites when he links an Anglo-Zulu War letter his grandfather bequeathed him, to his History teacher's mesmerising tale of the lost inKatha, 'The Soul of the Zulu Nation'.However, in his feverish quest to find the relic he unwittingly sets in motion a chain of events whiWhile Zululand reels under the blows of a lunatic's hammer, half-hearted schoolboy Craig's imagination ignites when he links an Anglo-Zulu War letter his grandfather bequeathed him, to his History teacher's mesmerising tale of the lost inKatha, 'The Soul of the Zulu Nation'.However, in his feverish quest to find the relic he unwittingly sets in motion a chain of events which disturbs the dark equilibrium of forces in his hometown; forces both past and present, and steeped in malice. As chance encounters with his History teacher become alarmingly more frequent, events explode when the boys clash with caddies from the local golf-course, the malevolent greenkeeper makes a sinister threat and the finger of suspicion drifts towards a friend's father when the lunatic's hammer falls once again.Set in a small town in Zululand during the turbulent summer of 1983, Zululand Snow is the tale of a boy searching for a way to bring a glorious past back to life. It's a tale of history and imagination, of folklore and legend, and the gravitational pull they exert on the marrow in a boy's bones....
| | | |
| --- | --- | --- |
| Title | : | Zululand Snow |
| Author | : | |
| Rating | : | |
| ISBN | : | 9780620622813 |
| Format Type | : | Paperback |
| Number of Pages | : | 284 Pages |
| Status | : | Available For Download |
| Last checked | : | 21 Minutes ago! |
---
Zululand Snow Reviews
"Zululand Snow" is both a trip back to a more innocent time and a visit to some of the darknesses that reside in South Africa's history.Craig Cruikshank, you see, is the boy that I was 25 years ago – the boy who took sunshine and friendship for granted, the boy whose language was peppered with "flip" and "takkie" and "klap". But also a boy who read about a vicious killer who travelled from village to village, hammering victims to death. And a boy who's interest in the Natal Battlefields was already starting to wane in the knowledge that the violence of South Africa had not died at Isandlwana or Rorke's Drift.Craig and his two friends, Sean and Hannes, are schoolboys who are on a hunt for the inKatha Yesizwe, a Zulu treasure lost long ago. The hunt will take their BMX's across Zululand and have them facing witch-doctors, poachers, eccentric teachers and golf-course personnel. And, of course, parents, grandparents and a man-eating crocodile…Tennant has written the book that I wanted to read when I was growing up – not that I didn't enjoy it now, mind! He keeps the reader drawn to the story and tightly focused on a multi-dimensional plot. While dealing with YA protagonists suggests that the book is well-suited to the YA market, "Zululand Snow" will appeal equally to adults – not just for the great story peopled by strong characters, but because the trip back to Tennent's 1983 is a warm, nostalgic one, where the darknesses are only starting to appear.

Zululand Snow is a superb piece of literature. Ian Tennent is a master of his craft and his writing is pure poetry. I was so enthralled by his words that I almost lost the "plot" which is a wonderful adventure story that would appeal to any audience. I look forward to another book from this author. Highly recommend.

"Books are like fire," he used to declare when he was alive, "they need air to live. Give them air, especially at night; the air's fresher and they burn brighter."Ian Tennent's debut novel, Zululand Snow, burns brightly with the innocence and "half-belief" of a South African childhood, full of imps, witch-doctors, the ghosts of Zulu warriors, omens and killer crocodiles. In a thoroughly South African voice, the story follows three school boys as they hunt for the long lost Zulu treasure, the inKatha Yesizwe. A ring of hair, vomit, spit and other icky bits, it's rumoured to be the source of the Zulu army's power in battle. It was thought to be lost during the second invasion of Zululand by the colonial forces. However, Craig discovers evidence in his grandfather's letters that it may have been hidden, and he thinks he knows where it is.He sets off to look for it with his best mate Sean, a promising cricketer with a knack for missing the ball, and the new boy at school, Hannes de Jager, who "thinks he's He-Man." Relishing the freedom of being white boys in South Africa in the summer of 1983, they galavant through the bush on their bikes, dealing with witch doctors, poachers, satanists and a man-eating crocodile. Meanwhile, a serial killer sows fear and distrust in their community as he murders people in their beds nearby. It's a mixture of fact and fiction, creating a picture so vivid that it leaves an aftertaste of pap and wors.There's so much going on in this book, but it works together and forms pieces of a puzzle that is both entertaining and engrossing. One might call the style of the novel South African gothic with a touch of magical realism, as imagination takes precedent over fact and the wild surroundings take on the emotions of the main characters, expressing them through dramatic thunderclaps, ominous death-birds and a pervading sense of justice. Read the rest of my review at Literogo.com

What an awesome book! Apart from an abrupt ending which I presume picks up in Zululand Gold, I read 3/4's of this book in 1 sitting - yes, that is how much it intrigued me. Craig, a primary school student, is determined to find a Zulu treasure, with and without his best friend Sean and newcomer friend Hannes. Cricket; History; "witchdoctors", crocodiles, Cyclone Demoina and murders are expertly woven into a most enjoyable read using descriptions that made me stop, taste, reread and savour them!

Having grown up on a farm in Natal during the 70's & 80's this book resonated deeply with me. The imagery and descriptions were so clear and vivid that I could almost taste and smell my childhood. Thank you Ian Tennent for transporting me back to a very happy time in my life. Looking forward to reading your next book!

What a beautifully written tale of childhood in South Africa. Ian has such a way with words that he brings the beautiful setting of Zululand to life with every page you read.

About thirty years before the end of the last millennium I was old enough to have a buzz-bike. It was a 50cc Yamaha. My brother had a Honda, also 50cc. Being the sons of an unemployed widowed-too-early mother with a modest widow's pension, for two adventurous teenage boys the attainment of these magnificent machines had not been easy. We celebrated the freedom and mobility thus attained by spending our weekends and vacations scooting across the dirt-tracks and secondary roads of what was then called Zululand. Through sugar-cane fields, on beaches, on tarred roads and on bush-paths we whined along with our bikes humming like incensed mosquitoes. To increase speed, or to cope with long uphills, we lay flat forward onto our fuel tanks. We explored every nook and cranny of Zululand. We picked up snatches and snippets of language and proverbs and metaphors in the vernacular. We read, avidly, histories of the Zulu nation and marvelled at the nobility and prowess of great Zulu leaders, then rode our bikes to where we had read about the great battles. We stole sugar-cane and munched it in the cane fields. We picked mangoes, lychees, bananas and granadillas from trees and bushes where they grew wild. We lived and breathed the natural beauty of the land.What a great pleasure it is, therefore, to come across this extraordinary book by an author who appears to have lived a similar dream, to have explored similar terrain, and who writes about it so eloquently. His novel breathes authenticity.From the first sentence of his text one feels comfortable in the knowledge that one is in the hands of a talented writer. His language is robust and subtle, his judicious use of rich and textured descriptive imagery is compelling, and his characters live and breathe and speak to us without drawing attention to the author himself. He creates, masterfully, an imagined world where his characters and their experiences seem to run free, with no intrusive posturing by the writer. James Joyce's Stephen Dedalus might say of this author that he "...like the God of the creation, remains within or behind or beyond or above his handiwork, invisible, refined out of existence, indifferent, paring his fingernails..." Yet Tennent is in firm control of this narrative. While there is no self-conscious literary insertion or manipulation of the narrative, he ensures that it all flows organically from the careful equilibrium he achieves between the action, the characters, the locale, and the rich symbolism of a strand of Zulu history.The action is woven around a quest, driving the plot inexorably forward toward a revelation. On the way there are delicious scenes, historical pointers to letters resonant with anecdotes that mirror the real history of the Zulu nation, and there are the adventures of schoolboys as they play cricket, tease and cajole one another, and undertake exotic adventures.This is a writer whose work deserves to be read. I am confident that he is on a trajectory that will give birth to many more insights into a terrain he knows so well.

Craig, Sean and Hannes are 3 rather typical boys of their time - growing up in a fictional town in Zululand in the 1980's. Full of gusto and spirit they conquer the bush with their BMX bikes and seek adventure of the rather historical kind. They deal with imaginary but also some very real threats in the process resulting in a fast paced adventure of note.I really enjoyed this book for so many reasons. One of them is without a doubt that I can place myself in the time frame with ease. I grew up with Casio watches and Mongoose bikes and cyclone Demoina is still vivid in my memory. They could have been my friends at school - although I wish I had the honour to grow up in this more rural setting. The author sets the scenes in a perfectly described world where you can smell the dust and the rain and feel the heat on your skin. The story line is well paced and enough suspense to keep one turning page after page without thinking about how late it is.I am a bit in two minds as to how I feel about the very beautiful descriptive language the author use. Although I love it in most of the places there were times where I felt that it interfered with the pace of the action and I almost wanted to glace over them. That being said, I did find myself sometimes going back to re read once I had the tension released in the part to enjoy the writing again.Although classified as Young Adult I thoroughly enjoyed the book - but then I am a tad partial towards Young Adult books and read them often enough. Ian Tennet is going to make a name for himself in the South African literary circle with this book. Touching sides with authors like Bryce Courtenay on the one hand and Deon Meyer on the other I can see many great read in the future.

What a great book! I've just closed it a few minutes ago, so the closing passages are still running around in my head.The experience begins right from the first sentence, which I give you here: "Up ahead, bullet-grey clouds muscled in from the east, flexing their knuckles like giant fists spoiling for a fight."Just that there is one of the many gems sprinkled through this book that give one pause for thought. I loved some of Tennent's similes and metaphors.Boyhood adventure gets mixed with Zulu superstition and beliefs in this fantastic tale of the search for the Inkatha Yesizwe, "The Soul of the Zulu Nation". I loved the way that half way through the book one's scratching one's head as to how various elements could possibly add up, and at the end of the story it's all neatly tied up with bows on top and one can rest easy. But oh, the shenanigans those boys got up to! Makes me remember life as a child in the Eastern Cape, which at times could be very similar - heading off into the veld without a care in the world. Just as a child's life should be!Very well written, and vivid, Tennent doesn't spare one the harshness of circumstances back in the time when this was set (I'm aiming for 1980s/90s, I imagine), but nevertheless he imbues the story with adventure, danger, excitement and the thrill of the chase. A fabulous read that I'll be recommending around, for sure!

The story revolves around three young boys growing up in the small (imaginary) town of Kwaduma in Zululand and what they get up to during one particular summer holiday - all written in such a way I could literally taste, smell and feel the place! As to the plot? Well, take some Zulu history, throw in a historical artefact, mix it with life in a "white" rural town, plant a villain or two, add the three boys, top it all with a sangoma...and there you have it! Not only well written, but also well researched, the way Ian has managed to combine parts of Zulu culture and history with country life to create the story can only be commended.For those of you - particularly South Africans - who grew up with the bush as your playground and spent more time outdoors than you ever would have indoors, this is a book that will take you back to your youth. And to the younger readers out there - it would not surprise me entirely if some of you, after reading Zululand Snow, came up with the notion that Ian Tennant had included you in the book, but under a different name... Great read, Ian Tennant!

Zululand Snow is exceptional. Part Spud and part National Treasure South African Edition, it follows Craig and his friends Sean and Hannes as they search for the long lost Zulu inKhata on the golf course that is their home and playground, avoiding Lappies, the constantly angry groundskeeper and groundings from their parents.The story is filled with beautiful imagery from start to finish, and I kept having to stop myself mid-sentence to reread some gorgeous piece of description or another.If I were to find criticism, and it would be stretching for it, I'd say that the book doesn't tether itself to an Apartheid era - there is little description of what is going on outside of these boys lives, and I feel that more could have been done to show the segregation when setting the book in such an era. But, on the other hand, it is set from the point of view of children, and I imagine that often the meaning behind the segregation would have been lost on them. Overall, I point blank adored the novel and will be rereading it over and over again I expect.

I got this book as a Goodreads Giveaway.The story is about Craig and his friends Sean and Hannes who live in Zululand in the 1980's. In their summer holiday they start searching for an old Zulu treasure, while their village is threatened by a serial killer and a tropical storm.For me, the book had a bit of a slow start, mainly because of the cricket match. But after that, the book was really nice and I finished it in no time. The cricket does give more depth to the characters, which is something the book lacked a little in my opinion. Apart from that, the book is really nice, with lots of things happening at the same time, which makes the story very dynamic and real. It really lets you keep turning the pages.I haven't read may books about Africa, so I think this was a nice change of scene. Being Dutch it was also nice to see many familiar words from Afrikaans in the book. I should also say that I like the cover of the book.

A charming adventure story about three schoolboy friends in Zululand. One of them finds a letter referring to an old Zulu relic, reported to have been hidden in the area after the Boer War. Of course, being curious boys, they have to discover its current location. This leads to many hours of summer escapades in the bush, forest, cane fields and the local dam. The story has elements of terror, intrigue, drama and suspense, as all good adventure tales should.It is well-written by an author who obviously has an intimate knowledge of the story's landscape and legends. It's potential readership would be mainly in the Young Adult age group. But I enjoyed the story and I think it would appeal to anyone who has an adventurous spirit.

This was a great book to help me get out of a reading slump. Especially after reading a couple of books that just didn't do it for me. The author captures your imagination and takes you along on an adventure with the boys. It follows a schoolboy Craig who is enthralled by the Zulu history of the region and who is determined to find the lost inKatha, "The Soul of the Zulu Nation'. Of course lots of twists and turns happen along the way and you go on an adventure with Craig and his friends.It is fast paced and once you start you don't want to put the book down. A must read if you enjoy adventure books and want to learn a little more of the Zulu history. The ending was sudden, and you immediately want to run out and get the next book.

I recommend Zululand Snow as an excellent light read. The title puzzled me as it has surely never snowed in Zululand, this is however clarified at the end. Although classified as YA this should not be restrictive as I thoroughly enjoyed it well beyond the bloom of youth. The three central characters are well developed and the book has all the ingredients to make for a good page turning adventure. The plot is bound in South African history and culture. I felt that some loose ends remained at the end, not enough to niggle but sufficient to look forward to reading Zululand Gold

Yoh! What an unbelievably brilliant book. I can't even. This book slammed me back into my youth with references that had me giggling like a school girl. The story is beautifully woven and depicts life exactly as it was then in South Africa. I also learned more about my country's history in two days than I had in 5 years of high school. Bryce Courtenay used to be my favourite S.A author but Ian Tennant has surpassed him with the beauty and grace of this novel.

An adventurous story line that keeps one reading. I love the setting & what the three boys Craig, Sean and Hannes get up to. Ian's writing is superb and his imagery is very creative. I have also read Zululand Gold which I recommend. Both are excellent reads.

It's an enthralling book, the author captures your imagination of the little town of Kwaduma in Kwa Zulu Natal. The references to ghost mountain resonated with me & my trips those parts of KZN. Alot of history of these parts of country were nicely interwoven into the storyline.(DNF)

An excellent read. Tennent captures the curious mischief of a child in even the adult soul. Local places and history intertwined with folklore and the general holiday busy-ness of three young school boys makes for a captivating unfolding of an unexpected adventure!

What a wonderful and enjoyable book! Ian Tennent's writing is so descriptive that I found myself fully involved with all the adventures that the boys went on.

I truly loved Zululand snow! I've learned a lot about some of the history I never knew. I even learnt a few words I didn't know in Zulu so will have to try them out at work soon.