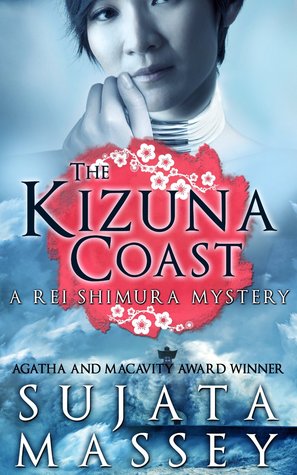 When an earthquake triggers a tsunami that floods Japan's northeast coast, amateur sleuth Rei Shimura is pushed into her most rugged adventure yet.It starts with an SOS from Rei's beloved elderly friend, the antiques dealer Mr. Ishida, who's trapped among thousands on the ravaged Tohoku coast. Rei rushes from Hawaii to blacked-out Tokyo, where she discovers Ishida AntiquesWhen an earthquake triggers a tsunami that floods Japan's northeast coast, amateur sleuth Rei Shimura is pushed into her most rugged adventure yet.It starts with an SOS from Rei's beloved elderly friend, the antiques dealer Mr. Ishida, who's trapped among thousands on the ravaged Tohoku coast. Rei rushes from Hawaii to blacked-out Tokyo, where she discovers Ishida Antiques may have been burglarized and its cuddly watchdog, Hachiko, needs a caregiver.Rei and Hachiko board a bus full of disaster volunteers headed to the damaged town of Sugihama. Once there, they learn about the disappearance during the tsunami of Mr. Ishida's antiques apprentice, Mayumi, a troubled young woman from a famous lacquer-making family.Making use of her volunteer friends, as well as her knowledge of Japanese manners and antiques, Rei investigates Mayumi's suspicious disappearance. Complicating the situation is a police force overwhelmed by counting the dead, and a stalker who's set his or her own sights on Rei....
| | | |
| --- | --- | --- |
| Title | : | The Kizuna Coast |
| Author | : | |
| Rating | : | |
| ISBN | : | 9780983661054 |
| Format Type | : | Paperback |
| Number of Pages | : | 372 Pages |
| Status | : | Available For Download |
| Last checked | : | 21 Minutes ago! |
---
The Kizuna Coast Reviews
I've been a big fan of Sujata Massey's series of mysteries featuring danger-prone antiques dealer Rei Shimura for quite some time now. In 2008, when I read the 10th book in the series, Shimura Trouble, it certainly sounded as if Massey was finished spinning stories about her heroine, and I was rather upset, so when I found out that Rei had returned to the literary world, I was very excited to spend time with her and her compatriots once again.When The Kizuna Coast opens, Rei and her new husband, Michael Hendricks, are settling into their lives in Hawaii. But newlywed bliss is short-lived once the couple learns that a powerful earthquake has rocked the northeast coast of Japan, followed by a devastating tsunami that left enormous death and destruction in its wake. Although Rei is relieved to find out that her family members living in Japan are all safe, when she receives a distressed phone call from her mentor and former boss, antiques dealer Mr. Ishida, who has been injured and displaced by the storm, she promises to go to Japan to help him.Getting to Japan shortly after such a disaster proves challenging (not to mention upsetting to her husband), and once she arrives, in order to get to the city where Mr. Ishida is, she must offer her services as a disaster relief volunteer. But before she arrives in Tohoku, she visits Mr. Ishida's shop, only to discover it may have been burglarized. And when she finally is reunited with him, she finds that while he is concerned about his shop, he is most concerned about the whereabouts of his employee, Mayumi, who unexpectedly met him in Tohoku on the day of the tsunami, but seems to have disappeared.At first, Rei doubts just how devoted of an employee Mayumi is, but then she starts to uncover more information about the tumultuous life this young girl led. And as she finds herself trying to help find out what happened to Mayumi, and get Mr. Ishida back to his shop, she is also overwhelmed by the destruction, both physical and emotional, that the tsunami caused. To top it off, her worries begin to grow about her husband as well, whose job sends him near the Fukushima nuclear reactor, which was damaged during the storm.Reading The Kizuna Coast is like being reunited with old friends. Rei's character hasn't changed, although she has gotten a bit more mature at times, but her doggedness and her compassion remain the same. While this book dealt more with her experiences in the tsunami-stricken area, it was still good to see the return Mr. Ishida, as well as her close friend and former roommate, Richard; her aunt, Norie; and her doctor cousin, Tom. The plot is a little predictable but it doesn't matter, because Rei is a warm, fascinating character and Massey does such a great job making you care about her and those with whom Rei is dealing. And as always, there's even some fascinating information about Japanese antiques thrown in for good measure.If you're a mystery fan, I'd definitely encourage you to pick up a book in Massey's Rei Shimura series. They're fun and compelling, and they've really taught me a great deal about Japanese culture I probably wouldn't have learned otherwise. Plus, you now have 11 books to read in the series, so hopefully if you get hooked, by the time you're done, Massey may write another!See all of my reviews at http://itseithersadnessoreuphoria.blo....

I missed this series so much!This is one of my favorite mystery series, with a really appealing main character who is half-Japanese and half-American. Sujata Massey masterfully blends art, history, and culture with compelling storylines (devastation of the Japanese tsunami and its after-math) and fascinating characters. Rei pulls us into her life straddling two cultures and gives us touching insights about both. The details about life in Japan--including food, art, cultural differences--bring these books alive. The mystery in this book was satisfactory, but once again it was the characters and the horror of the tsunami event that made me fall in love with this book.Another winner. Loved it.Grade: A

I find this difficult to review: after eleven books, I consider Rei as my dear, comforting friend. This time the themes were a shade darker, but Rei kept me entertained. Perfect summer read for fans!

Vaikka olikin ihan mukava lukea Rein kuulumisia pitkästä aikaa, ei tämä kirja mikään maata mullistava lukukokemus ollut. Juoni ei ollut aiempien Shimura-kirjojen veroinen ja Rei itse oli ihan yhtä ärsyttävä kuin ennenkin. Lisäksi Rein olisi pitänyt kyllä päätellä tarinan konna reilusti aiemmin. Ihan jees, mutta ei todellakaan mikään kummoinen kirja.

3.5 starsI had thought the Rei Shimura series ended several years ago. But the author was inspired by the events of the 2011 tsunami in Japan to revisit the characters. I'm glad she did.Rei and her husband Michael are living in Hawaii, not long after their marriage. When the earthquake and tsunami strike Japan, Rei is worried about her friends and family there, particularly her elderly mentor, Mr. Ishido, whom she learns was injured and is trapped in one of the worst-hit areas. Rei travels to Japan and joins volunteers to the disaster area to search for Ishidosan and help with the clean-up and rescue efforts. There, she learns her mentor's young employee is missing, along with heirloom lacquer pieces from her family which were worth a small fortune. Of course Rei cannot let a mystery go uninvestigated, and she searches for the girl and missing treasures as she deals with the tragedies large and small of the tsunami.The story was a worthwhile and enjoyable revisit to what was a very good series. I loved the chance to see Rei and some of her friends and family again. The real draw to the series then and now, though, was the wonderful peek into Japanese culture, and the backdrop of the tsunami made it all the more interesting and poignant.I understand the author has written some stories set in India. If she weaves insights about local culture and customs in to those as she has with the Rei Shimura series, it will be well worth checking out.

What I enjoy most about all of Sujata Massey's books is the careful explanations they offer of the art, food, and culture of Japan (and India, too, in The Sleeping Dictionary.) Kizuna Coast finds Rei Shimura investigating a suspicious death right in the middle of the overwhelming devastation following Japan's 2011 earthquake and tsunami. It's a clever plot, involving a collection of antique lacquerware and a rebellious blue-haired artist. Fans of Rei Shimura will find themselves in happily familiar territory with Massey's descriptions of the contents of Japanese antique shops and auction houses. That said, the plot feels a little more pared down than in some of Rei's other outings--and I think that's as it should be. The book is full of descriptions of the region hardest hit by the tsunami, and the rescue and cleanup efforts, which were aided by volunteers who showed up by the busload. The mystery is expertly woven through plenty of very real and specific details about what life was like in the aftermath of the disaster. Massey does a great job of unfolding this fictional mystery within an excruciating moment in history.

This book takes place during an "interesting" period immediately after the Fukushima disaster in Japan, when the protagonist (Rei Shimura) goes there from Hawaii to volunteer and search for her mentor, who has disappeared. His assistant, a young woman, has also disappeared. Mystery ensues, amid a backdrop of utter civil chaos.Aside from enjoying the protagonist as I always do, I found the book to contain a lot of local color, imparting a good feeling for the extent of the disaster and various personal tragedies of the characters she comes in contact with. Oh... Some of my favorite passages were the painting scene, the haircut scene, and the bathtub scene.Ms Massey's writing is clear and flows well, as always. I've read the entire Rei Shimura series, of which this is number eleven, and I've enjoyed them all.After the first nine books were traditionally published, the author apparently went solo for this and the previous volume. This one is self-published -- "Ikat Press" (Baltimore) has no web presence -- so I'd consider it an indy. The formatting and editing are top-notch, aside from a handful of typos.

Sujata Massey says Because of the real framework of the 2011 earthquake, tsunami, and nuclear disaster, this book could probably qualify as a modern historical novel within the Rei mystery series.As Rei Shimura ventures to the Tohoju coast in search of her mentor Ishida-san as a Helping Hand volunteer vivid description builds of the impact of the tsunami on coastal towns and villages, and of the way the Japanese community works together to rebuild lives. There is an authentic feel to the narrative which told me things about the tsunami that I had no way of knowing: the pervading smell of the rotting fish left behind as the water retreated, the stories of people who survived while those with them were washed away, the after shocks that continued for days, and so on.Against this background Massey has woven the story of the search for Mayumi who disappeared after the earthquake, and then of Rei's search for justice.It is always a delight to discover an author and enjoy your first read so much. It is like making a new friend.

Sujata Massey's latest in the Rei Shimura series is more somber and stars a more mature heroine. Rei returns to Japan to help the victims of the horrendous earthquake/tsunami aftermath of 2011 when her mentor Mr Ishida calls upon her. His current apprentice Kimura Mayumi is missing and he fears the worst. Rei immediately embarks on a harrowing mission enlisting help from her husband Michael and various Japanese relatives and friends. Ms Massey does a respectful job of describing the devastation, the relief efforts and "kizuna" all while providing another culturally informative mystery. I, for one, am pleased to see the series continue with a more mature Rei. I hope Ms Massey has more Rei adventures planned (along with more new Indian-based books) for her fans. In the meantime, arigato, Ms Massey!

Ihan kiva oli tavata pitkästä aikaa Rei Shimura, mutta ehkä muistan ne edelliset dekkarit parempina kuin olivatkaan tai sitten Masseyn olisi vain kannattanut pysyä päätöksessään ja antaa Rein olla. Massey sijoittaa tarinan vuoteen 2011, maanjäristyksen ja tsunamin koettelemaan Japaniin. Hedelmällinen maaperä dekkaritarinalle, mutta se ei vain kulje. Tämä solahtaa kategoriaan ok välipala, joka unohtunee muistista hyvin pian.

It was very nice to return to Rei and her adventures! I don't know how but I had actually missed the news that Massey had written one more Rei book, and find out only when the Finnish edition was published this summer.The book is full of details about Japan and the way of life there which I obviously love. I only wish the mystery hadn't relied so heavily on coincidences. Rei investigated things but didn't do much solving, she just got lucky.

I was a fan of the Rei Shimira series and didn't notice there was an 11th book until just now! So obviously I had to read it - though I couldn't remember the original books at all anymore. This was a nice, light, and enjoyable read, I loved the mystery of having several suspects and lots of things going on. It wasn't very realistic how Rei kept stumbling onto the right answers by accident or how eager she was to solve everything herself, flying to another continent and picking locks. But that's ok, there are lots of illogical books out there with Mary Sue-ish characters. What I found disturbing, however, was the clumsy dialogue and the large amount of typos, continuity errors and other mistakes. Sentences were missing words or had them double. And so on. Wasn't there an editor?For example, -a meeting was made for 7 pm. When it happens, it's 6 pm-Mr Kimura says something and later Rei says it was the Mrs who said it-Rei had an omelette and later it had turned into a pizza-Hanauma Bay was misspelled as Hanama Bay-there was talk about Audrey Hepburn dying very young, but she was actually over 60 when she died (which is unfortunate and, yes, young if compared to a centenarian, but not what they meant in this context)I mean, sure, these are little things. But when these small mistakes keep repeating on every other page, it distracts you. So, how many stars? A tough one. Entertainment: 4 stars. Readability: 3 stars.Would I read one of Sujata's other books? I'm not convinced.

The setting is 2011 Japan after the deadly earthquake and Tsunami in Fukushima. . The main character, Rei, returns to Japan to help her mentor, Yasushi Ishida, find his apprentice, Mayumi, who had disappeared in Fukushima. While the setting showing the results of the two natural disasters was interesting it was shallow. The search and the resulting solution of where Mayumi was and what had happened to her was obvious from almost the beginning of the novel. It was overall a dull read.

I enjoy this series with its mix of culture and mystery. She is an unlikely detective, but seems to end up in these situations where she gradually unravels the mystery, with a bunch of likeable characters and rogues in the mix.

Hooray! Rei Shimura is back!I've been reading Sujata Massey's Rei Shimura detective series since the late 1990s, captivated by these books because the main protagonist is a Japanese-American antiques dealer turned detective, living and working in Japan. I still remember my joy in first discovering this series! Sujata Massey is part Indian, part German, like a friend of mine, and lived in Japan for several years.A fascinating character who I've always felt I could relate to more than most detectives, Rei Shimura led me through ten adventures, mostly set in Japan, before she retired in 2008 to live with her new husband Michael in Hawaii (Shimura Trouble). You can find the other Rei Shimura titles in chronological order on Sujata Massey's Web site, in case you want to start at the beginning (which I always prefer to do). It was a little odd, reading this one, because Rei had aged only a few years even though the series spans over 17 years, but I understand why Massey chose to keep her young.Since Rei Shimura retired (and I sadly accepted there would be no more books in the series), I've begun following Sujata Massey online and became Facebook friends with her. She is delightful, and we have much in common (including the fact that we both turned 50 in 2014). I hope to meet her in person one day.Fortunately, she's continued to stay busy, last year publishing The Sleeping Dictionary, a historical novel set in India, which was my second-top pick for fiction in 2013. (My parents' book group recently read The Sleeping Dictionary on my recommendation, and it was a popular pick!) She also published a beautiful little novella, The Ayah's Tale, about the relationship between an Indian ayah and the English children under her care.But back to The Kizuna Coast! I was supremely lucky to be able to read an Advanced Reader Copy of this soon-to-be-published novel, which will be out in February.I could relate so well to Rei Shimura's great angst when she saw news coverage of the 2011 Tohoku earthquake and tsunami and subsequent Fukushima nuclear disaster. Even though I don't have relatives in Japan, it's where I met my husband and spent three of the most adventurous years of my life, and I have so many fond memories of the kindness of so many Japanese people. During those first few harrowing days, I was glued to the Internet and couldn't keep myself from watching that devastating wave destroy whole towns...my heart ached for Japan.Soon after the tsunami hit, Rei's mentor Mr. Ishida calls her, asking for help. She gets to Japan as soon as she can and gets embroiled in a mystery...to find out what happened to Mr. Ishida's young apprentice, Mayumi, who has disappeared. She goes to Tohoku as part of a relief effort and is touched by people who have lost their loved ones and livelihoods. She experiences 絆 (kizuna, or bonds of love), which the Japanese show for each other during this difficult period. The Japanese public chose 絆 as the kanji of 2011 after they witnessed an unprecedented outpouring of assistance after the earthquake and tsunami. While not as literary as her last book (The Sleeping Dictionary), The Kizuna Coast was a quicker read and compelling just the same. Rei Shimura remains cemented as my favorite detective series, and I hope the series continues.I'm so glad Rei is back! I read this book over the Christmas holidays while I had family visiting from England and Australia, and it was hard to put down. The only other book I've read about the Japanese tsunami was Ruth Ozeki's A Tale for the Time Being, which was my top fiction pick last year. I would love to read more, and I hope one day to return to Japan myself. In the meantime, I'm grateful that my favorite authors are making the trips, doing the research, and telling the stories themselves.

I was lucky to receive an early Christmas present of a free copy of the Kindle edition of this book in exchange for an honest review, so here it goes! (Thank you again, by the way! :)) Although I didn't discover the Rei Shimura series until fairly recently, I quickly became a fan of Rei and have been eagerly awaiting the newest installment since I heard a new book was in the works. The story is set shortly after the devastating tsunami that hit Japan in March 2011 and is a bit of combination of mystery and modern historical fiction (as the author so aptly put it!) with a smidgen of romance. The story begins with Rei, her husband, and the Hawaiian Shimuras watching the news reports of the tsunami unfold. I felt that Rei's reactions were spot on, and her feelings of helplessness and desire to ensure her friends and family were safe rang true. Anyone who has found themselves in a similar scenario could easily identify with Rei in those early moments. Once she finally makes contact with her beloved mentor Mr. Ishida who mysteriously asks for her help before the phone line cuts out, Rei and her husband, Michael, find a way to get her into Japan. Ishida-san and his young assistant, Mayumi, were in Tohoku for an antiques auction when the tsunami hit and now Mayumi is missing. Rei joins a group of volunteers and finds her way to her mentor. Following Rei's reunion with Ishida-san, the two attempt to track down what happened to Mayumi. The story deals with not only their search for Mayumi but also draws in stories of those whose lives have been changed by the tsunami.Fans of this series will enjoy being reacquainted with old characters, including Rei's family members in Japan and her former roomie Richard, and meeting the new ones who cross paths with Rei, such as the precocious Miki and Mr. Ishida's dog, the intrepid Hachiko. Another feature of the series that I always enjoy is learning about Japanese culture. In this story the art of lacquer is explored, as is the concept of "kizuna." The tone of this one is a little different given the fact it is set right after the tsunami. The care and thoughtful approach to this topic are evident throughout the book. The balance between fact and fiction is just right. If you haven't discovered the Rei Shimura series yet, The Kizuna Coast is an excellent introduction to it. You'll no doubt want to go back read the rest of the books back-to-back-to-back like I did once you meet Rei!

Hooray Sujata, because of my being so tired during this long weekend after a busy holiday, I mostly just felt like reading in bed and I was able to finish this book preview after all!It was fun to finally read another REI Shimura story so soon after my first visit back to Japan (in 23 years) this past August. During that visit I stayed with my host family of 40 years in Chiba (only 150 miles from the setting in this story). While there I traveled by both commuter and Shinkansen trains through Tokyo numerous times; so with this new book, I was able to relive my recent travel memories all over again! Each time I read one of the Japanese words (written in italics) in the Kizuna Coast, a cultural memory of being there came back too. I have often wondered whether other readers also have enough knowledge of Japan to really understand these words and their associated customs? For me it's always a treat. I especially appreciated learning more intimately of the many types of volunteer efforts that took place during the initial cleanup. Having watched so much devastating press over the past three years since the 2011 Tsunami; I was pleased to discover the concept of Kizuna (which describes the bonds or deep connections between people.) The Japanese people selected that as the "Kanji of the Year" for 2011 because it best summed up their unifying experience after the disaster. This story for me was educational. The hidden details of contemporary homosexual social life were also enlightening but the inclusion of specific details of Rei & Michael's love making and fashionable dress seemed out of place and odd given the sensitive subject of this story. I found that it detracted from the gentle caring idea of Kizuna which thread behind her compassionate volunteer efforts.I am still a Shimumra series fan (so please keep them coming) but unlike her last book, The Sleeping Dictionary (which was an excellent piece of historical fiction); I consider this book to fall in the category of light weight recreational reading.

On March 11, 2011, an earthquake and resulting tsunami struck Japan and the world watched in horror as the ruinous effects unfolded, including the frightening damage to a nuclear plant and the deaths of more than 15,000 people. Four years later, more than 300,000 survivors still live in temporary housing and many who were exposed to radiation from the nuclear plant are coping with health problems.Rei Shimura's first thoughts are to find Yasushi Ishida, her mentor who is not answering his phone, but she soon discovers that while he is alive, Mayumi, a young apprentice, is missing. Rei, as any of her fans would expect, heads to Japan right away, directly into the devastation. She has solved mysteries before but this one will test her limits as she encounters destruction and untold suffering everywhere she goes.Rei has always been one of my favorite characters in the mystery world, especially among those who take me to exotic places, and I have missed her and her inability to succumb to defeatism in the face of seemingly insurmountable odds. Her quirkiness and humor are infectious and I'm thrilled to have her back in my life.Note: I sound like a crazy fan, don't I? One might even say I'm a bit of a stalker but I really do know that Rei is a fictional sleuth ;-)Sujata Massey writes a cracking good mystery (with a fabulously helpful cast of characters!) but it's easy to see that the earthquake and tsunami struck a chord in her. Much of The Kizuna Coast revolves around the aftermath and Ms. Massey's emotions clearly shine through Rei's own. I've always enjoyed this series but, somehow, The Kizuna Coast has a depth to it I haven't seen before and I appreciated the way the author brought heart to a terrible event. I can't recommend this book highly enough whether others have read the series from the beginning or not.Reviewed by Lelia Taylor, March 2015.

What can I say-I loved this book. I have read every book in the Rei Shimura series and after each one I think, "Okay, this one was my favorite in the series." I am hear to say that The Kizuna Coast is my absolute favorite in the series. I was so sad when I thought the series had ended and then I found that the fabulous author Sujata Massey had added another stellar story to the series.In her last outing Rei had retired and was living in Hawaii with her new husband Michael. The backdrop of this story is the 2011 Tohuku earthquake and tsunami and the subsequent Fukushima nuclear disaster. Rei gets and SOS from her mentor and friend, antiques dealer Mr. Ishida. He was attending an antiques fair on the Tohuku coast and was injured in the earthquake. Rei travels to Tokyo first and sees that Ishida Antiques has been burglarized and that Mr. Ishida's beloved dog Hachiko (look up the history of the original Hachiko) has been left all alone in the store. After spending some time with her Aunt Norie and her friend Richard she finally makes it to Tohuko with Hachiko in tow and is reunited with her old friend Mr. Ishida.Mr. Ishida is very concerned about his new protege Mayumi. The young woman also came to the antiques fair and she hasn't been seen since the earthquake and tsunami.Lots of adventures ensue and so many endearing characters are brought forth. The word 'kizuna' means bonds of loving kindness. For all of you dog lovers out there, and I am definitely one, you will fall in love with Hachiko.Sujata Massey is a gifted story teller so much so that I never had a great deal of interest in Japanese culture at all until I read the first Rei Shimura book, The Salaryman's Wife (1997).I can only hope that there will be many more Rei Shimura books to come.

I fell in love with Rei Shimura and her world with the first book in the series. The Kizuna Coast is the eleventh book, and it's been six years since the last one. Welcome back, Rei!The story plays out against the immediate aftermath of the 2011 March 11 Great Eastern Kanto Earthquake and massive tidal wave. The tsunami caused massive flooding, explosions, and fires in a nuclear power plant and a refinery. Almost 16,000 people died and another 2,000 were never found.Most people would want to leave or never go to such a devastated area. In typical Rei fashion, she heads towards the area, and so, by another route, does her new husband, Michael. For Michael, it's his job; for Rei, she is desperate to learn if her elderly mentor, Yasushi Ishida, has survived. Her search for him leads to a non-earthquake related death almost buried in tsunami debris.Where in the world do you start recovering from such devastation? Rei starts by chopping yams and onions to make hot soup for two hundred people. Massey brings this almost incomprehensible tragedy down to details like a toddler's flashing shoes and survivors being served their first cup of hot green tea.Massey says in her introduction that though the usual mystery elements are here, this will be a different kind of book, and it is. All of Rei's wonderful relatives are here though more at a distance, frequently over cell phones or by text messages. Yes, this book is a little different from her other Rei books, but I don't find that a drawback. Read this one, and if you like Rei as much as I do, go back and read the other ten books.by Sharon Wildwindfor Story Circle Book Reviewsreviewing books by, for, and about women

Hmmh. Tämä oli koskettavampi ja koherentimpi kirja kuin edellinen Rei Shimura, mutta kirjaa vaivasi sama ongelma kuin useimpia sarjan loppupään kirjoja: epätodennäköiset sattumat. Kirjassa vaan ei ole kertakaikkiaan minkäänlaista jännitettä tai juonta, joka pitäisi lukijan pihdeissään. Tämän luki lähinnä siksi, että oli lukenut aiemmatkin osat. Loppua kohden kaiken itsestäänselvä selviäminen ja pikkusievyys alkoi ärsyttää. Rei Shimurat eivät varsinaisesti ole dekkareita, mutta en oikein tiedä, mitä ne ovat. SPOILER ALERTPikkutytöt löytävät rojun seasta just sen repun, jossa ovat kadonneet antiikkiesineet. Rei kävelyttää koiraa just siellä, missä on pikkutytön isä romun alla, ja tämä pelastuu. Koiraa koulutetaan ruumiiden etsimiseen juuri siellä, missä on kadonnut henkilö, ja Rei on ensimmäisenä paikalla. Kadonneen henkilön eksä tulee Tokiossa just samaan bussiin, missä Rei on, ja eksän suvun yritys on just se, joka on vastuussa pahiksen talon korjaustöistä. Sairaalassa pikkutytön isä ja tärkeä todistaja jakava saman sairaalahuoneen. Kaikki tämä olisi uskottavaa, jos tapahtumat olisivat jossain autiolla maaseudulla - mutta ei hemmetti japanilaisessa kaupungissa, jonka yli on juuri pyyhkinyt tsunami. Japani on maa, jossa asuu 127 miljoonaa ihmistä. Vuoden 2011 maanjäristyksessä katosi tai kuoli melkein 20000 ihmistä. Se, miten näppärästi Rein eteen vain osuvat juuri oikeat ihmiset, tavarat, paikat, faktat, todisteet - myös 13 miljoonan asukkaan Tokiossa - on vaan kertakaikkiaan epäuskottavaa.

Oh how I've missed Rei. This is a very interesting look at the aftermath of the earthquake and tsunami in Japan. Rei rushes to Japan to help her old boss, who has been injured and is stranded away from home. While she is able to find him and reconnect him to his lovely dog, she is unable to find the new assistant, who had appeared in the area just before the disasters hit.This is a wonderful look at contemporary Japan. There are many changes happening as a result of the internet and global connections. Many of the more traditional aspects of life are coming under review by the younger generation. I was particulary intrigued when the investigation led to the gay establishments and how much has already changed in terms of acceptance. Yet the need for vigilance and protection of identies is ongoing.I really enjoy the rapport of the characters and the intelligent and insightful way the investigation was handled. The plot was sufficiently convoluted that I was not able to determine who done it. I was also interested in the process of recovery from this disaster and the effects on the people of Japan. I suspect this was heavily researched, but it did not feel like it while I was reading.I received a free ebook from the author for my honest review.

The Kizuna CoastI just obtained my pre-order digital copy of #11 of Rei Shimura's adventures and I am intrigued by the plot already. I will update my review when I finish, but with December deterrents, I am reading slowly, as I savor each chapter. We don't know when Sujata Massey will grace us with another book starring this favorite protagonist. Keep writing about Japan and India, please, dear author and friend. I know I will re-read the whole series to get more of this darling girl, Rei Shimura! Cannot wait to buy this paperback in a month or so.If you haven't found this latest of Sujata Massey's latest in her series, you are in for a surprise!You will not be disappointed with the growth in her main character.

I've loved reading this series, and this latest book was no exception. I really enjoyed all of the details about contemporary Japan, told through an educated--but ultimately outsider--POV. This one was especially poignant, describing the reality of the aftermath of the 2011 tsunami & Fukushima fire, and the ongoing recovery efforts. Sujata Massey's descriptions and attention to detail have been incredible across the whole series, and she definitely didn't shy away in The Kizuna Coast from the more horrifying details (which is so critical when telling a story like this). And it didn't come off like rubber necking or disaster tourism at all (although I'll defer to anyone who actually lived through it for their opinions on the subject.) A great series overall :)

The Kizuna Coast is another great Rei Shimura mystery. This one is set in Japan right after the earthquake and tsunami in 2011. I was first introduced to the character of Rei in 2014 when I read The Flower Master. I appreciated seeing the aftermath of tsunami through the eyes of a novelist. Of the 4 Shimura mysteries that I have read, this is easily my favorite. I highly recommend it to all readers of novels, not just mystery lovers.Do you remember the movie, Hachi, starring Richard Gere? I learned in this novel that the story was based on a Japanese professor and that a statue of the dog actually exists. Fantastic bit of history built into the novel.

You will not "Coast" through this new Rei series!!!!!! Rei's radar is on....finding answers to mysterious coincidences. For many of us who have read other Massey books, this one keeps you up-to-date with Rei's friends and family as she works to connect and protect those she cares about. A very engaging piece of history that we vividly learn about through Japanese history, impacts of actions that cause Rei to uncover and solve mysteries with twists that keep the reader turning pages to the end with a little romance mixed in. It has been a long time since we connected with Rei and her clan. Looking forward to her next adventure!

I'm a big fan of the Shimura mystery series, and was excited to read this latest edition. It just so happened that this week is the 5th anniversary of the tsunami in Tohoku, so this story felt especially meaningful. I liked how this book gave the reader a glimpse of the tragedy within the context of the survivors and volunteers. The mystery part of the book wasn't as engaging as I remember from previous books, and even the dialogue felt unsatisfying. However, for the reasons mentioned above, I do recommend the book.

I did miss Rei, and it was fun to get back into her world once more. I didn't re-read any of the earlier books. My first reaction in the beginning was a bit mixed feeling because it didn't feel like home coming, but a bit strange like "was Rei really like this before...". I kept reading and found the book more interesting from the near history perspective than from the mystery side. It felt quite eyes opening. But don't get me wrong, I enjoyed it all.

I have been a longtime fan of the Rei Shimura series and was so excited to have a new book out this year. While it took me a few chapters to remember all the characters and Rei, I loved this book. If you haven't read any of the other books in this series, start at the beginning with "The Salaryman's Wife". These books are a great peek into Japanese culture and customs. Thank you Sujata for writing another Rei Shimura book!

I was so excited to find that Sujata Massey had written another book in the Rei Kimura series as I've enjoyed every single one of them. It seems she had finished the series, but the events of 3/11 inspired her to have Rei return to Japan to help an old friend.You can't help but love this book, though it isn't as tight as her others. But it may be one of the most important Rei Kimura book just do the subject matter and the emotional impact. I'm so very glad that she wrote it.