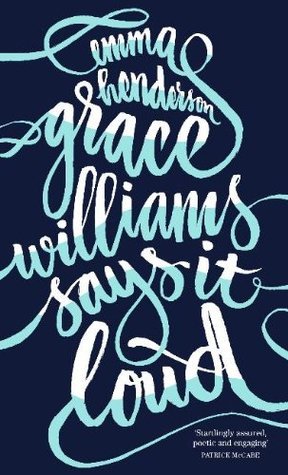 This isn't an ordinary love story. But then Grace isn't an ordinary girl. 'Disgusting,' said the nurse. And when no more could be done, they put her away, aged eleven. On her first day at the Briar Mental Institute, Grace meets Daniel. He sees a different Grace: someone to share secrets and canoodle with, someone to fight for. Debonair Daniel, who can type with his feet, fThis isn't an ordinary love story. But then Grace isn't an ordinary girl. 'Disgusting,' said the nurse. And when no more could be done, they put her away, aged eleven. On her first day at the Briar Mental Institute, Grace meets Daniel. He sees a different Grace: someone to share secrets and canoodle with, someone to fight for. Debonair Daniel, who can type with his feet, fills Grace's head with tales from Paris and the world beyond. This is Grace's story: her life, its betrayals and triumphs, disappointment and loss, the taste of freedom; roses, music and tiny scraps of paper. Most of all, it is about the love of a lifetime....
| | | |
| --- | --- | --- |
| Title | : | grace williams says it loud |
| Author | : | |
| Rating | : | |
| ISBN | : | 11253694 |
| Format Type | : | Kindle Edition |
| Number of Pages | : | 336 Pages |
| Status | : | Available For Download |
| Last checked | : | 21 Minutes ago! |
---
grace williams says it loud Reviews
I disliked this book, and that seems a shame to me, because there was such potential in the topic. I am interested in mental health and learning difficulties, and the ways in which we treated and regarded individuals with physical and mental disability in the past. Yet I struggled to read this book. In fact I only finished it because I had spent money on it and I felt I needed to justify it. I found this book lacked fluency, both in the writer's voice and the overall narrative. I found it difficult to follow at times and did not feel like I cared enough about the characters. I understand that Emma Henderson was trying to convey the voice of Grace, but I don't think it worked, at least for me, on this occasion. I would not reread this book and would not recommend it to others. It was hard work from cover to cover and I cannot identify any redeeming features.

(This review also appears on Amazon.co.uk)I wanted to adore this book, really I did- but I couldn't. I found it such a struggle to get into and nearly gave up on it several times. This book had the potential to be really fantastic, but for me it's distinctly average. After seeing other five star reviews on here, I do have to wonder if maybe I've read a different book from everyone else- but this book just really wasn't my cup of tea at all.I liked the premise of the novel and in places it is well written- it's just for me the `good' bits are few and far between and don't compensate for the rest of the story. I do however think the author should be praised for tackling such a subject, and one which was clearly very personal to her.I suppose my main problem with this book was that for me, the protagonists `voice' just didn't work; particularly as the plot jumps all over the place from present day to Grace as a child and then back again she recaps her memories so there's a *lot* for her to say. I found it very jarring and a bit disorientating if I'm honest, though I think even if the book had been a bit more linear it still would have made me feel this, as aspects of the prose used were clunky and disjointed. I felt the author was trying too hard to be poetic- she uses five words when one or two would have done instead. Sometimes Grace was also very loquacious, yet at other times lapsed into a more childish way of thinking, which didn't always make sense.The book contains aspects of sexual and physical abuse from the medical professionals at the institution which was hard to read, as well as rather graphic descriptions of toilet habits, which the author certainly doesn't shy away from, so this book is certainly not for the faint hearted. It does make you think however, about how people in institutions were treated and the horrors that they went through, so clearly touches a nerve and feels very raw and real.There is some very good characterisation in this book however, which is another positive. The romance between Grace and Daniel was poignant and touching and is for me, what prevents this book from being a mere two-star read. Some of the other secondary characters too, are wonderful- though as we see them from Grace's perspective I did feel a sense of detachment from them in places.As so many other people have loved this book, maybe this is one you should try for yourself; as for me, I doubt I would read any books by this author in future.

First Sentence: "When Sarah told me Daniel had died, the cuckoo clock opened and out flew sound, a bird, two figures."Emma Henderson's debut "Grace Williams Says It Out Loud" is wonderful, compelling and engaging. Written in the voice of Grace Williams, a spastic, "uneducable", polio-stricken, mentally retarded, who speaks in grunts and other unintelligible sounds. However, Grace Williams speaks with words that are poetic and fluid, drawing a juxtaposition of contrasting emotions in me as a reader. At age 11, when nothing could be done anymore, Grace Williams, was sent to a mental institution where she met and loved Daniel Smith, another resident. Theirs was a not an ordinary love story, told in a detached voice, and devoid of any sentimentality. But then again, Grace Williams "isn't an ordinary girl." This book, however, is not just about the special friendship between Grace Williams and Daniel; but of Grace Williams's family, her carers, the love, the abuse and the betrayal Grace Williams has been subjected to.

I picked this up because a reviewer thought it was comparable to Emma Donoghue's Room, in it's, "linguistic, and emotional, resourcefulness."I totally disagree - I was very disappointed.I didn't warm to the main characters, or root for them, or even really feel much for them. It had nothing like the emotional punch that it should have had given the subject matter.

A heartbreaking yet funny novel. I really felt close to the characters and was moved to tears for poor Grace at some points. This really put things in a new perspective for me. Very well written.

If you want an easy and unchallenging read then this is not for you.This is an unsentimental account of a child with profound disabilities growing up and coming of age in institutions in the 1950s and 60s, and then finally settling into what is called `supported living'. It also details the impact that her disability has on her family. Grace, the narrator, recounts her story with no holds barred. She doesn't shy from letting us know about the messy practicalities of struggling with bodily functions and physical intimacy. Her world is one of monotony punctuated with jaw-dropping abuse and neglect, yet at the same time she lives in a blighted paradise of hilarity, of companionship, of tenderness and of love. Don't expect some coy or sanitised version of disability.The novel's matter-of fact tone renders it all the more powerful. Grace becomes almost inured to the casual cruelty she endures on a daily basis with little expectation of being treated any better, or of others recognising her intelligence or humanity. Fortunately she encounters a small number of people sensitive enough to see beyond her disability and these relationships help sustain her. Movingly, she discovers what it is to love and be loved.Institutional life inevitably takes its toll on Grace and at times her behaviour appears to others to be challenging and bizarre, but mostly it is borne out of sheer frustration and pain. The physical, sexual and emotional abuse that Grace suffers is described graphically but in a way that is a million miles from the misery memoirs that utilise these things as their stock-in trade.In terms of awareness-raising it's a very worthy and worthwhile novel, but is it any good? Yes, thankfully, it is. It is wonderfully descriptive and honest. The language fizzes with originality.I am taken aback by the fact that so many people glibly assume that Grace has a learning disability or describe her as mentally impaired: on what evidence? Where in the novel does she demonstrate any lack of understanding or limited awareness? Her physical appearance, her inability to articulate more than two words at a time - and often those are unintelligible - and her drooling and dribbling, so vividly described here, are factors that lead doctors in less enlightened times to diagnose her as `a complete imbecile'. Some readers seem to have taken this at face value even though the medical profession are portrayed with so little credibility. How can you listen to the voice of this clear-sighted, observant, funny, sharp-witted young woman without seeing the intelligence that shines through? Inabilty to communicate does not equate with an inability to think and reason. Some people even seem sceptical that someone like Grace could tell her story so eloquently. Why?Just because Grace can barely speak, does not mean that she is without intellect. This is an amazing book, which depicts Grace's life at a period of time when children with such disabilities were deemed ineducable and the word 'spastic' was in common usage. In early childhood after being diagnosed with cerebral palsy, Grace then contracted polio, thus compounding her disability.I loved the characterisation of Daniel, a physically disabled boy with bags of charm and personality. He can manipulate anything with his toes, as he has no arms. He and Grace form an enduring, loving relationship. It is a beautiful, tender love that flourishes between them. Could there be a more unlikely love story than that of Grace and Daniel? And yet, it works so well that I fell in love with both Daniel and Grace. Daniel, almost from the moment we first meet him when he bows so low that his hair brushes the tops of his shoes. Grace, as I got to know her over the course of the book.As Grace remembers her life before entry into the 'Briars' the reader learns much more about Grace's early childhood at home with her parents; the wonderful warm, tenderness of her mother's feelings, her father's music. Other dark family secrets and tensions are revealed. Despite the fact that there is no real plot to this book, it kept my attention throughout.I found this a wonderful book - realistic, poignant, tender and funny at times; it is beautifully written with superb detailed descriptions. What made this even more moving for me was reading that this story was partly based on Emma Henderson's sister, Claire who spent 35 years institutionalised for similar reasons to Grace, and to whom the book is dedicated.Yes, some of the book was sad, but overall Grace was a humorous, loving and forgiving person. I feel richer for having known her and for reading this novel. Unquestionably ★★★★★

I am not a misery lit person: I do not read sad reveal all novels about past miseries although I am often attracted to books set in mental institutions (see also Girl, Interrupted, The Bell Jar, One Flew Over the Cuckoo's Nest etc etc) and a particular type of contemporary fiction that this slots neatly into, making Grace Williams Says it Loud tick several boxes for me. I'm pointing out my dislike - and, to be quite honest, extreme distaste - for misery lit so that you don't think that this book fits into that category. This is not one of those A Child Called "It" books. To label as such would be a waste and a mistake as it is a charming and sweetly sincere read. It is based on the authors sisters life growing up in a mental institution from the 1950s onwards in England. There are some slightly harrowing moments of abuse here but I really felt that the whole book was light-hearted as a rule, despite these and Grace's many troubles and ailments, both physical and mental. Grace takes her abuse bravely and incredibly stoically and so while you may find those scenes melancholy or distressing, I found them integral to the plot and feel of the novel and especially appropriate to the time its set in. I did enjoy this book but I didn't love it though I think that might be down to me rather than any fault of Emma Henderson. This is a well-written, clearly imagined and extremely moreish book and I found myself racing through it. (And it softened the blow when my friend was 40 minutes late!) At times the vignette style of writing can be slightly distracting - not hard to read, just rattled through a bit fast - for the most part is it well suited to Grace's own character and personality albeit with a bit of leeway. Her day-dreaming mental life was written rather beautifully, I thought.I wished well for Grace although I didn't love her and I found the general outcome of her relationship with Daniel, the other key character, really disappointing although I couldn't imagine it any other way. Perhaps it was disappointing because it was what I was expecting when really I was hoping for more. I especially enjoyed the changing role of her sister Sarah, the one beacon in a mismatched, scattered family.If you enjoyed this, I would recommend The Girls by Lori Lansens. It is a story about conjoined twins and although the plot, characters, setting and period are all different, I feel that you might like it too.

What a tough book this was to read. I went through stages of anger, indignation, happiness and also sadness, while reading Grace's story. I imagine it must have been difficult to give shape to the inner world and experiences of the outer world of someone who cannot communicate her feelings and thoughts accurately in either speech or writing. Who really knows how disabled people were (are?) treated? As the above quote demonstrates, the Briar Mental Institute staff does not hold a high opinion of their clients. The doctors and nurses can be downright insulting... and physically and mentally abusive. It is so easy to take advantage of someone who has difficulties expressing their opinion, and if they somehow managed to relate their story, nobody would believe them. They are, after all, just a bunch of crazies. It is not clear to me whether this is something that only used to happen in the past, but I doubt all institutionalised individuals in the West are getting the respect they deserve. The sexual abuse was particularly grating, and it reminded me of this Dutch swimming teacher who only recently was convicted for molesting intellectually disabled girls.As for Grace's story itself, it had many beautiful parts in it as well. Of course she realises that she has always been different, but she does feel loved. She accepts her situation (up to a certain point...), mostly with the help of Daniel. I think he has Progeria syndrome, which causes his appearance to be prematurely aged. But even without his arms (which he lost in a car accident), he is so nimble and so full of vigour. Their little getaway is one of the sweetest parts of the book. I am a sucker for love stories!I truly hope that, after reading this book, people will look at people who are slightly off the "normal" scale with new eyes. How can we know what others truly think? Is it so strange to believe that their existence is just as meaningful as ours, their thoughts and emotions as complex as everyone else's?

Emma Henderson's book is ambitious, moving and tackles very serious issues about society's attitude to disabled people.(I can't believe this book was compared to Emma Donoghue's 'Room' which I found to be a formulaic 'beach read' and boring considering the subject matter!)My only frustration with the book was in the pacing and style of writing. I found this to be a big problem. The writing is beautiful but somewhat jarring in that events presented from the POV of the main character are shown to the reader almost as list of facts. I understand that this is because Grace is institutionalised by the horrific attitudes at the Briar. However, it has the effect of her presenting sexual abuse almost in the same way as she describes a box of cakes. Grace's narrative voice is muted, sobering and mostly unquestioning. This is a chaotic way to plot the book and I found it a bit of a chore, often putting down the book or leaving it for a few days. This book certainly needs momentum. If you put it down you're unlikely to want to pick it up, which is a shame.I'm not surprised Emma Henderson has personal experience of the issues as you really feel that you are eyewitness to the terrible attitudes in the 50s and 60s. There is some reprieve from that later in the book. The relationship between Grace and Daniel is incredibly poignant at times and they are easily some of the most interesting characterisations I've come across. From other reviews I've read, this is a book to persevere with because of the brilliant subject matter and characterisation but it may be more of a battle to get through than most.

Conflicted.That is the first word that comes to mind with this book. Emma Henderson's writing is superb. Her scatterbrained writing elevates Grace's situation more so. The characterisation is sublime and always on point. Which makes you want to know more about the cast but yet still feel satisfied about who you are spending your time with. For these points alone I could say it was a five star book.However, the story itself and the pacing of the novel brought it down, for me. It's a heartbreaking book, and that's putting it mildly. Much of Graces life is filled with abuse of all kinds and while it lends credence to the plot and reveals some moments of uplifting sweetness, it becomes incredibly overbearing. At one point, halfway in, I actually became so morose that I wanted to give up reading it.I can understand these plot points are there to drive the story, but when these saddening and horrific moments arrive every 40-odd pages it becomes a little too intense. Especially when the romance between Grace and Daniel is so beautiful and sweet. There is a moment when Grace reflects on a memory of her Mother (I won't spoil it) and it was so heartbreaking that I actually paused and closed the book for a while before I could carry on.I also felt that the ending didn't quite hit what I wanted after such a story. The less said on this the better, really. But overall, while the novel has some great points, in the end it just became a bit too much.

I read this book pretty quickly over about two days, not because it was particularly compelling, but because I was afraid that if I put it down, I'd lose sense of the characters and where I was in the narrative. Because the main character, Grace, is a patient in a mental institution, locked inside an uncooperative body, unable to speak more than a few words at a time, branded "uneducable" by the system. The main body of the story spans roughly a decade, from about 1960 to 1970, with a bit of "before" and a bit of "after". Not so much "Girl, Interrupted" as "Girl, Ignored" -- most of the other characters exist on the fringes, but Grace's best friend, Daniel -- an epileptic who lost both his arms in an accident -- is painted sympathetically and movingly. Their relationship is a romance of a sort, keeping in mind that Grace doesn't have the context or the language to define "romance" via average societal expectations. This is not a book to dip in and out of -- it requires attention -- but it is not "hard" reading, despite some of the uncomfortable scenes (hey, would YOU like to be a patient in a pretty average mental institution circa 1965?). Grace is at times frustrating, at times triumphant, but mostly just very, very normal -- inside her head. The end is bittersweet, as you'd expect. I wouldn't read it again, but I would recommend it.

I was confused by this. Sometimes it seemed that Grace could talk normally, sometimes it seemed she couldn't. Sometimes she seemed to be severely disabled, sometimes slightly disabled. Maybe it would have helped it I knew what was wrong with her, but I think the reader was supposed to work it out from clues(she was very small, she had some sort of problem with her tongue, and she appeared to have a learning difficulty or maybe developmental issues). The trouble is I have no idea what they indicate.The writing style didn't help me understand Grace either. It was in the first person and Grace was the narrator. But it seemed to consist of "this happened" or "this happened and I did that". There was rarely anything which gave an insight into her motivation and I didn't understand why she reacted to some things in the way she did.In particular, I didn't get the sense that this was a great love story (but that might partly be due to my confusion about Grace). It seemed to me that Grace and Daniel hooked up because they each recognised that the other was the best match available in the circumstances, so there was more than a little bit of pragmatism in their relationship. So although I wanted to like this, I just didn't get it.

This looked like a happy book. "Grace Williams says it loud" looped in bold cursive across the cover, friendly and inviting. But this is not a happy book, and Grace doesn't say it loud - she barely speaks out loud at all.Grace has an unspecified mental illness which has caused doctors to tell her parents she's a right-off - a spastic, ineducable. Her parents listen, and Grace is institutionalised in 1956 at the age of ten, to grow up in the children's unit at the Briar. It's dismal. Every horrible thing that could happen in such a place, at such an un-PC time, does happen.If this is a love story, as promised by the friendly cursive, it's not much of one - and a tragic one to boot, for we know at the outset that Daniel is to die. We're just along for every other miserable occurrence as we countdown to that predetermined end.I suppose we are supposed to view it as uplifting, as redemptive, as Grace goes on despite the trials of life at the Briar. I did not find it uplifting. Read if you can stomach a good dose of the ugliness of humanity.

This is deservedly nominated for the Orange prize. Grace Williams is the most wonderful creation, it was easy to fall in love with her in these pages. Whilst the two main characters (and many of the minor ones) have severe disabilities, the main message for me was that we are all more alike than we are different. The saddest fact about Grace's story is that it is so true to life - many people with disabilities were treated terribly in the years that Emma Henderson writes about here. And some still are I suppose.There are many painful episodes in the book where Grace tells of how she is treated and the kinds of language that is used by her carers to describe her - spazzo and cretin being used often. Hard to read, but I'm sure, grounded in reality.But this is not a "triumph against the odds" type of story. Rather it's about how we all live our lives - the small daily pleasures and the connections with others that makes it all meaningful. Beautifully written - Grace's wordplay is a delight - and very worth reading.

3.5 stars. The story of Grace, who everyone thinks is mentally deficient but actually enjoys words and stories and is rather perceptive. And her boyfriend, Daniel, the armless story-teller who can fill in the blanks. And Grace's life at home and then at the mental institute. And growing up. And good times and bad. Besides that, there is some wonderful alliteration which I only picked up on when I read bits of the book out loud to my dogs. This is a little ironic seeing as Grace's clumsy tongue makes it difficult for her to speak more than one or two words, yet the words in her head make one's tongue leap quite gymnastically. I enjoyed this book. I'd find it difficult to tell who else would.

The Story ~'Grace Williams Says its Loud' is the story of Grace Henderson, a story which she narrates. Grace was born with severe disabilities which became worse due to Poliomyelitis (Polio). Grace is eventually sent to Briar House where she meets Daniel, a debonair, individualistic boy who suffers from epilepsy and has no arms following a tragic accident. Grace and Daniel are there for the same reason, their health problems, Grace's parents tries desperately to keep Grace at home and care for her but they are advised by Grace's doctors that Briar House is the best place for her, Grace's parents feelings of guilt cause problems in their marriage.Grace and Daniel's friendships develops as the story progresses and they fall in love, Daniel shows Grace a world of hopes and dreams, which they can both achieve. What I thought of 'Grace Williams Says its Loud' ~I have mixed feelings about the book, it was well written and insightful but at the same time, it did make me feel slightly non plus because I felt that Grace deserved more and because of the time which the book is set in (from the 1950s onwards), Grace had to face ignorance from people who did not understand her, which is part of Grace's story and her growth as a person but even at the end, I still felt she deserved more. Grace is a likeable character, very warm and memorable, as was Daniel, he kept the story going with his enthusiasm and his relationship with Grace. The book also showed how dire it was in care homes during the 1950s onwards which frankly infuriated me, I understood that in the 1950s, situations were swept under the carpet but I could not helping wishing that someone would protect Grace, Daniel and the residents, take a stand but it never happened and as loud as Grace spoke, she never told anyone what was happening because tragically she did not understand, which saddened me more because she had been let down so badly.

I can't decide between three or four stars for this shortlisted Orange Prize novel. Three for how there were times when I thought focus was lost -- or four for how the book lingered in my mind after completing it.Emma Henderson's inspiration was her elder sister, who, like the title character, Grace, came to the world in the late 1940s with birth defects, soon exacerbated by polio. By age ten, Grace's parents are persuaded to send her to an institution, the Briar, which, of course, is destined to be a place where such children do not advance. It is rife with abuse, ranging from packages sent to patients not always reaching their destinations to sexual abuse. However, there are some dim rays of hope, seen through Miss Blackburn, the teacher, who insists that the children can be educated and earnestly cares for them as people.And it is at the Briar where Grace meets Daniel, a half-French, half-British epileptic who lost his arms in an accident. A self-described autodidact, Daniel punctuates his sentences with French phrases and entertains Grace with engaging personality. The taciturn Grace speaks to him -- and we hear her voice as others hear her, rather than how we usually hear her thoughts. We know that Grace can be educated. We know that Grace thinks and has feelings. We are meant to feel for Grace and be angered about her situation. We are meant to challenge our own feelings regarding disability.Although we learn about Grace's family here and there, even at the Briar through Grace's memories, most of the focus is on Grace's relationship with Daniel, which, eventually, brings us back to her family, as her younger sister Sarah, years later, becomes involved. Sarah once hated visiting Grace in the Briar, but as the years go by, Sarah becomes Grace's main champion.

First of all I have to say that I didn't finish this book.This was not because I didn't want to continue to read it but only because it is a very detailed and slow story and I couldn't renew the book at the library.... See http://uniflamecreates.blogspot.com/2... for a full review.

I chose this book as it was described as feelgood and inspiring and I wanted that after reading some rather depressing novels recently. However, I found this book to be a very sad and disturbing tale - a combination of loss and abuse. Although well-written it was just not what I was hoping for or expecting.

A powerful narrative voice - quirky and warm, a great hand to hold through a rather bleak story. Well told, unashamed, whilst never falling into pity. Well pitched between serious issues but with a light story-tellers touch. Not one that will fade from memory quickly - packed with little details that will keep it bright in any readers mind.

Not quite the masterpiece I was led to believe (I have some quibbles with the voice) but this is an exciting debut and well worth checking out. I bought it after seeing it on the Orange Prize longlist. The story is touching and written, for the most part, in nicely judged prose. A compelling debut.

Grace's story is an uncomfortable read: rightly so given that it describes her growing up in a mental asylum from the fifties onwards. There's a love of life that comes from meeting the enigmatic Daniel and a feeling of how society betrayed some of it's citizens not that long ago. I found this moving without being overly sentimental.

just a quick update find it slightly to much all this sadness but continueing with the read as easy to pick up and down but only so much sadness I can cope with one setting,I am more than half way through and find it it a strange book to read as can cause a bit of distress but is also compelling and makes you think what it must have been kike to live this kindof life

Grace Williams is born with a handicap and sent to live in the Briar Mental Institution where she meets Daniel. I found the first half of this book incredibly slow but it redeemed itself in the last 50 or so pages. I came to care for Grace and Daniel but I don't think I was as heavily invested in them as the author would have liked.Forgettable.

Such a positively told story...moments of outstanding human achievement interspersed with human atrocity but shared so naturally and sensitively. A perfect illustration of how the changes in theory and society's prejudices over time have impacted on how successfully children and adults with physical and learning disabilities can thrive .

I thought it had a certain bitter beauty to it, the overall sadness of Grace's life punctuated with moments of happiness. I thought the writing style was really enjoyable, & what could have been a very bleak backdrop was transformed into a world of heroes, villains, romance & friendship. I liked it, & I'm glad I gave it a chance.

It was a thought-provoking novel and made me think about my attitudes towards disability. It was a light-hearted novel at times which is an amazing feat considering the subject matter. I also liked the tone that the author used so that she never veered into sympathy writing and left it to the reader to react to the situations.

I thought this book was lovely and moving. Like Lyrics Alley, it was plagued by odd pacing problems; but after reading up on the author a little, I have learned that, like Lyrics Alley, it was based (however loosely) on the life of one of the author's family members--in this case her sister, who, like Grace Williams, spent most of her life in a mental institution, classified as "ineducable."

A sensitive and intelligent novel with excellent characterisation. Emma Henderson has a unique way of using language that is both emotive and sensuous, portraying the disabilities of her characters incredibly well.

A book which takes you into the difficult world of handicap as it used to be half a century ago. Eye opening if you have no experience of such unfortunate people. By turns funny, sad, troubling , empathetic and shocking.